JEFF SMITH has extended his contract with Winmau after a successful first spell. The Canadian, a World Cup Singles winner, has seen a resurgence over the last two years and looked to be returning to his very best just before the COVID climate struck.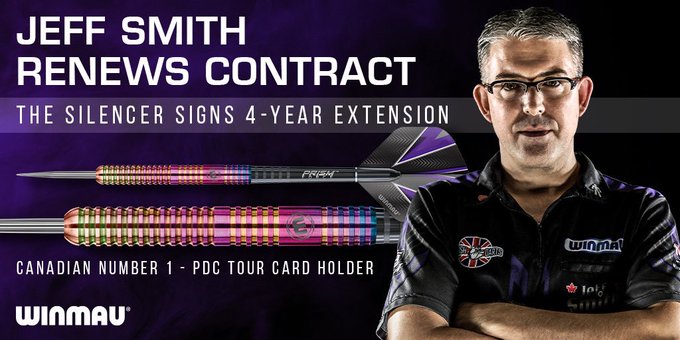 "Winmau are pleased to announce that @TheSilencer170 has signed a 4-year contract extension!"
It seems that the Winmau brand is consolidating its position across a range of areas. The capture of MVG has ensured that their elite roster is looking complete. Although they might be a little light on the newer generation of UK players. Their European position is solidified by adding Vincent van De Voort and Boris Koltzov.
The Winmau influencer/ambassador pool spans the generations nicely and the extension of Smith's deal along with Simon Whitlock ensures a global presence.
Sales & Marketing Director at Winmau Ian Flack says:
"It's been a pleasure working with Jeff over the last four years & we're eager to continue working with him."
The Silencer ticks a lot of boxes that most would look for in a sponsored player. An international appeal, very well thought of, successful in many areas, and with a strong CV. Smith's World Cup victory and Lakeside runner-up spot has already ensured a legacy but his talent combined with a calm and determined demeanor offers the prospect of further success. As can be seen by the tweet below Jeff also know how the player/sponsor relationship works:
"COULDN'T IMAGINE THROWING WITH OF AT ANYTHING BUT A @WINMAU PRODUCT"
---
Jeff seems to feature regularly in our 'This week' archive review, he has a knack of winning regularly, and in many different countries and formats.