In more conventional times this column looks at the business of darts and the development of our game. Since the very beginning, and like most popular sports, darts has been a partnership between players, fans, media, and manufacturers.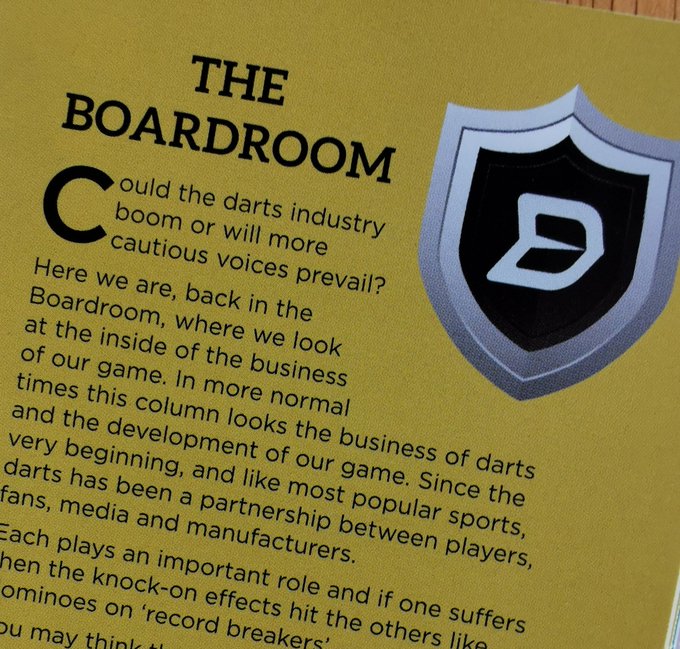 Each plays an important role and if one suffers then the knock-on effects hit the others like dominoes on 'record breakers'.
You may think, then, that Covid -19 would have been a hammer blow to our industry. Amazingly this does not seem to have been the case. In fact, darts may be one of the few sports sectors to 'benefit' from 'The Virus'. Even the BBC has carried reports, of darts experiencing Christmas level orders, with a major manufacturer saying:
"it's gone completely crazy, we don't have this level of demand for a major product launch or even a new player signing".
The Board Room has heard tales of staff members having stock in their garages or spare rooms, in order to be able to work from home, and of empty warehouses due to recent demand. Overall, many of the major brands adapted well and, importantly, have been seen to look after their staff, players and customers. Many deserve huge credit.
One early casualty of the aftermath might maybe 'managed' players. At least one major promoter/manager is set to revamp their company model to accommodate the new 'remote style' events. More than one stable of players may well be dramatically cut, with the younger, unproven players being especially vulnerable. Complete remodeling of management models may not be far away.
It would be no surprise if leading brands also look to reduce the size of their commitments to players, especially those in faraway lands or those outside the elite echelon. The Board Room is, however, also beginning to hear rumors of a major exodus from one major manufacturer. Some were much slower than others getting ahead of the virus and its related difficulties.
A business insider said
"the virus affected some companies more than others"

"some have Chinese supply chains and/or don't hold much stock"

"it's often the biggest names that are slowest to adapt to change".
Fans, on the other hand, may be a major beneficiary of the 'brave new world' with a plethora of new events that are free to watch, via streaming sites, apps and other media, along with a re-scheduling of many events in the later part of this year or even early in 2021.
To quote Gary Anderson: "you wonder if there will be enough hours in the day for all of it".
Broadcasters and the wider media, including magazines and websites 😉, will be faced with the challenge of covering this huge rush of events, and keeping the fans up to date and entertained, while not saturating what was already a busy market. Nimble and quick thinking manufacturers and suppliers may well get a jump on some of the more traditional companies. It will be interesting to see who alters there normal operations and timetables and who adopts a 'steady as she goes attitude'.
In addition the birth of MAD, UKDA and other organisations, who are looking to remodel the amateur game, will add a similar dynamic to that of the early 1990's. Who to back early, who to avoid and how to not be tarred with any specific brush will be another evolving situation that may provide those in our business with some tough choices.
Yet more interesting times will come when renewal dates arrive for TV rights deals. Will darts' value have increased? Or, will the PDCs brand value have been diluted by the various new products available?
These are exciting, yet complex, times for our business. Will fortune favour the brave? Or will 'steady as she goes' be the order of the day?
We in The Board Room will keep our ear to the ground, and you fully up to date.
---
The Boardroom is a regular feature both online and in Darts World magazine. A fuller version of this column appears in Darts World 570 order your copy while stocks last.