Glen Durrant has revealed his pride at maintaining his unbeaten record against Michael van Gerwen with Wednesday's superb Unibet Premier League victory.
The three-time Lakeside Champion claimed a third successive win over the Dutchman when he took the spoils 7-3 in their top-of-the-table contest in Milton Keynes.
Durrant followed up Tuesday's draw with World Champion Peter Wright by averaging over 104 in seeing off Van Gerwen, with his display including a huge 167 checkout.
He had defeated the Dutchman twice in 2019, in a Players Championship and then at the World Matchplay, and maintained his 100% record over the world number one on Wednesday.
"I'm super proud, I'm very, very happy," said Durrant. 
"Sometimes you feel good, practice went well and it just went so right on the stage. 
"Michael Smith, Michael van Gerwen, I don't have their talent but what I've got is hard work, tenacity and experience.
"I'm a little bit slower than the rest of them, but that's one of my strengths; people probably aren't going to give me their best game because they can't get into their rhythm.
"But that's because for 20, 30 years I've played in my bedroom, played local league, County and Superleague etc, and that's my strength.
"I'm tough to beat right now, and maybe I've got Michael's card right now because he's not at the oche all the time.
I'm sure he'll play tremendous against Gary [Anderson] and Michael [Smith], but against me he possibly may struggle because I'll dictate the pace."
The pre-match hype had included Durrant being labelled as "boring" by Van Gerwen for his slower style, but the Middlesbrough ace admitted: "He probably doesn't like my pace.
"He actually said that Glen Durrant's a phenomenal player and he'd have to be at his A-game to beat me. The bit about being boring was highlighted and that's what makes people talk. I think I've got his respect.
"I don't want people to talk about how slow I am, I want people to talk about me averaging 103 yesterday and 104 today."
Durrant – who is now in a strong position to secure a Play-Off spot in his debut Premier League season – relished the moment as he moved two points clear of Van Gerwen at the head of the table.
"Whatever sport you're in, it's special to beat the best player in the world and this is up there with any night in my career," added Durrant.
"Michael's the best player in the world right now and the second best player ever to pick up a dart, and tonight I beat him.
"It's amazing – I've got so much respect for him and I'm going to enjoy the moment. I feel that I'm right up there now as one of the top ten in the world and I'm only going to get better.
"I'm top of the Premier League and I'm proud of that, but I just want to stay in the top four now and make sure I'm in the Play-Offs."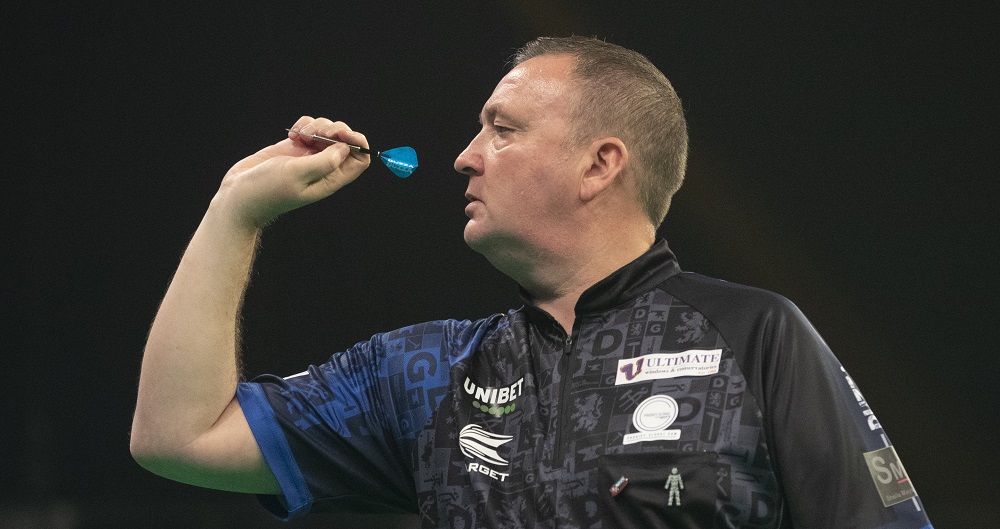 Since reaching a second successive Betfred World Matchplay semi-final last month, Durrant has opted to change to using a slightly different style of flight.
"The new flights are going well," he said. 
"I don't seem to be straying into the five or one and I'm scoring bigger with them.
"Not many people throw a pear shaped flight and that new flight is working well for me right now. I had a 103 average last night, 104 tonight and it's something I'll stick with and work hard."